A championship team is made up of puzzle pieces of different personalities, and it's okay for there to be unique personas and personal strengths throughout the staff. What's more important than conforming personalities, is that everyone is working towards the same GOALS.
Fake and phony is sniffed out by high school and college kids– quick. Recruiting-wise, it's always better to be yourself than to act like someone you're not. You don't have to act 20 or 30 years younger, or speak the latest slang. You don't have to pretend to be the nicest, most polite person on the planet– kids will see right through you. And so will their parents. And if they feel that you aren't being real with them, they won't trust you. And if they don't trust you, you're wasting your time!
READ MORE: Directory of more Coach Tips
Some coaches are nerdy but technical geniuses. Some coaches have no personality but are tremendous at every other aspect of the job– consider lightening their recruiting responsibilities. I've been on staffs where a coach or two didn't go out on the road unless to evaluate players just because their personalities didn't mesh with recruits. Not everyone has "it." On the other hand, I've worked with coaches who may not have had the best results on the field, but they could sign a high percentage of prospects for the program. For some coaches, their recruiting abilities helped them keep their job!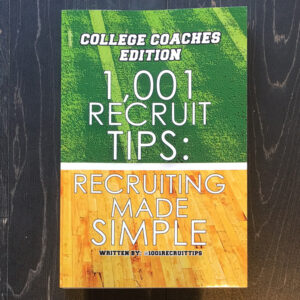 For some of you, your personality and ability to recruit will be your biggest career strength. Your ability to SIGN top players will help you get and keep jobs, when sometimes you aren't carrying the load on gameday. For others, you can learn to improve your recruiting skills and luckily that starts with just being who you are.
THE BEST RECRUITERS CAN TALK TO ANYONE AT ANY TIME ABOUT ANYTHING. THEY CAN BLEND INTO ANY SITUATION, WALK INTO HOME VISITS OR GYMS FROM THE HAMPTONS TO LITTLE HAITI TO THE RANCHES OF TEXAS TO THE WOODS OF WEST VIRGINIA TO COMPTON TO MALIBU TO CHICAGO TO SAMOA AND BLEND IN LIKE THE FAVORITE COUSIN. NOT EVERYONE HAS THAT SKILL, BUT THOSE WHO DO WILL SUCCEED GREATLY IN THE RECRUITING GAME.
BOOK: Order 'Recruiting Made Simple' with hundreds of recruiting tips for college coaches!