ESPN: Alabama, Cincinnati and how the transfer portal shaped the College Football Playoff
This is the way college football has worked. One minute, a wide receivers coach at Eastern Michigan is watching Jerome Ford rip off a 79-yard touchdown run in last year's Peach Bowl between Cincinnati and Georgia. The next minute, that wide receivers coach is a running backs coach at Cincinnati, and Ford is walking into Darren Paige's office morning after morning, wanting to build a relationship and set goals for the season.
When Dan Lanning was the recruiting coordinator at Memphis, he introduced himself to Jameson Williams knowing the wide receiver was bound for bigger schools. Lanning was hired by Georgia a few weeks later, and he returned to Williams' hometown of St. Louis, Missouri, this time with an actual recruiting pitch and offer from Georgia. Lanning is now the head coach at Oregon.
For decades, coaches were free to come and go as they pleased. If a player wanted to move on, he would need the blessing of his previous school and need to sit out a year.
Both Williams and Ford found themselves in similar situations the last two seasons: They had come to Ohio State and Alabama, respectively, looking to fulfill their dreams, but found themselves buried on depth charts without clear paths to more touches. They both realized the best option was to go somewhere they could prove themselves.
This is the way college football now works, too… [READ MORE]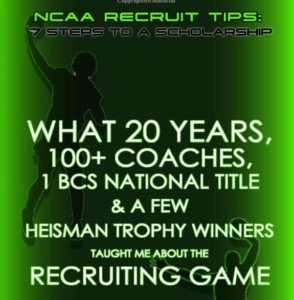 Yahoo! Sports: Caleb Williams' transfer portal entry is latest and loudest example of free agency taking flight in college football
Caleb Williams, Oklahoma's star freshman quarterback and a favorite to be the NFL's No. 1 overall draft pick in 2024, has entered the transfer portal, adding a massive pop of talent to college football's new era of free agency.
If you thought players opting out of bowl games was causing the heads of the sport's old guard to spin, well, welcome to the next level.
Now that players are allowed a single transfer without having to sit out a season, and with the era of name, image and likeness profiteering upon us, this is some combination of hot stove baseball and county fair auctioneer.
Complain all you want, but the reason Williams is looking at greener pastures is because the coach who recruited him and led him last season, Lincoln Riley, did it first and bolted to USC just hours after the Sooners' regular season finale… [READ MORE]
College Football: Top 5 transfer portal quarterback additions for 2022
The transfer portal has been as wild as the coaching carousel. These five transfer quarterbacks are great fits at their new school.
We are in a new era of college football. With the one-time transfer rule and the transfer portal, players looking for an opportunity to start and programs looking to fill holes in their rosters are taking advantage of a culture of player movement.
Coaches taking over programs looking to rebuild can use the portal to fill holes in their roster early and allow their younger players to develop. Mel Tucker and the Michigan State Spartans are a perfect example of the masterful use of the transfer portal.
Most coaches leave room for transfers during recruiting, and it is the intelligent thing to do… [READ MORE]
247sports.com – Caleb Williams transfer: Oklahoma QB's decision shocks college football media
Oklahoma quarterback Caleb Williams will enter the NCAA transfer portal. The true freshman signal-caller made the announcement on Monday via Twitter, saying he will explore his options but leaving open the possibility that he could return to the Sooners.
Williams is coming off an outstanding season at Oklahoma that earned him a spot on the 247Sports True Freshman All-American Team. He took the college football world by storm when he replaced Spencer Rattler during the first half against Texas on Oct. 9 and engineered a 21-point comeback win over the rival Longhorns… [READ MORE]