Transfer Zone: LinkedIn for college athletes entering transfer portal
There is a growing trend that keeps college coaches on their toes 24/7. Student-athletes deciding to leave their school and enter what is called the transfer portal – a database where other coaches can reach out and offer a spot on their team. Sounds simple, right?
"It's a dark, dark place," says CJ Bennett, a private quarterback coach in the Tampa Bay area.
Bennett played (and transferred) and coached in Division-I. Bennett knows all too well that just because you go into the portal, doesn't mean you're coming out.
"It happened right when I left college coaching, and I don't think anyone realized what it would become," Bennett said.
To date, there are over 22,000 student athletes across the NCAA looking for new homes in various sports… [MORE]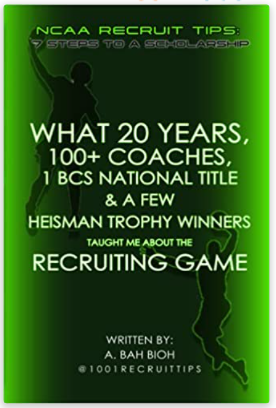 Major changes to transfer market may not have major impact on college football's balance of power: Emerson
There are now two times a year, Sam Pittman has learned, that he has to be ready for his team to be raided. The first, right after the season when other teams come for his coaches. Pittman already knew about when he became Arkansas' head coach. That's a longtime college football rite of winter.
"Then after spring ball it's the same way — but with your players," Pittman said… [MORE]
High school football coaches talk approach to recruiting after NCAA changes
Brentwood Academy coach Cody White isn't ready to say high school football is permanently changed.
But the NCAA's adoption of a widely accepted one-time transfer rule — which allows collegiate athletes to transfer one time without penalty and gain immediate eligibility at another school — has spawned more new names than ever in the NCAA transfer portal.
And as some college coaches prioritize scanning the portal over recruiting high schools, their allotted scholarships have become chess pieces, leaving mid-tier high school prospects with fewer options and a more complicated recruiting process… [MORE]
ESPN: Tampering has arrived in college football, and it looks like NBA free agency
It was late December, not yet the end of the season, and already the wolves were circling. An assistant at a high-level Power 5 program knew two of his school's best young players — one on offense and one on defense — were being actively recruited by other programs. In fact, he said, it was "unbelievable" how many coaches were reaching out to players on his team's roster.
"The cheaters," the frustrated assistant said, "just keep cheating."
Tampering officially arrived in college football this offseason, leaving coaches to both lament the current state of the game — and try to keep up.
They know if they wait for a quality player to enter the transfer portal to begin recruiting him, they're too late. So they've been reaching out to third parties and using players as go-betweens. It's a violation of NCAA rules, of course, but enforcement is nearly impossible.
An SEC head coach said that not only is tampering happening, "it happens most of the time."
A prominent high school coach told ESPN's Tom VanHaaren he has seen it increase to the point that he estimates 60% of college teams are doing it… [MORE]
The Athletic: The college basketball transfer portal is good, actually
On April 2, one day before the start of the Final Four, Dick Vitale decided he'd seen enough.
The following evening, UCLA star Johnny Juzang (a Kentucky transfer) would take on unbeaten Gonzaga (a program with a decades-long track record of developing successful transfers) just before eventual national champion Baylor (featuring among its stars former transfers such as Davion Mitchell and MaCio Teague) took on Houston (almost equally transfer-laden) — but no matter… [MORE]
247: College football teams who were crushed by transfer portal losses this offseason
Once in the early days of the transfer portal, the University of Missouri-Kansas City's basketball team saw 11 of its 13 scholarship players enter the transfer portal in the span of two weeks. That's the sort of devastation that can occur via the portal for some teams. And while the roster-wide destruction is never going to be that all-encompassing in football – rosters are too big – there are still some programs in this new era of the one-time transfer exemption that are being crushed by the portal's existence.
Those are the programs we're focusing on today… [MORE]
Transfer portal paves way for college recruiting
The NCAA Transfer Portal is a term that is discussed a lot in college athletics recently. So, what is it?
The portal isn't some science fiction doorway that a college basketball player can walk through and suddenly wind up on a new campus with a new team, although it is starting to feel that way.
"It's easy," said Carlos Rosario.
Rosario is part of the newest batch of recruits from the FGCU basketball team found his way to Fort Myers from McNeese State via the transfer portal… [MORE]