College Leaders Urging NCAA to Enforce New NIL Guidelines, Or Else
Athletic directors say schools with boosters who have struck deals with players who have not yet signed with schools should be sanctioned
SCOTTSDALE, Ariz.—Inside the Hyatt Regency at Gainey Ranch, the lavish resort on the outskirts of Phoenix, dozens of the most powerful people in college sports milled about, parading through the expansive lobby and basking in the sun on the terrace. But, the majority landed deep within conference meeting rooms, searching for answers to what's become the latest seismic quandary in the industry—the rapidly escalating donor-fueled bidding war for college football and men's basketball players.
"This is the time we have to put our stake in the ground. Enough! This is not acceptable," frustrated Colorado athletic director Rick George says. "What we're doing is not good for intercollegiate athletics, and it has got to stop."
College leaders are strongly urging the NCAA enforcement team to begin investigating what they deem to be obvious recruiting violations, past and present. Donor-led collectives that have struck deals with players before they sign binding letters of intent are violating rules, says George, one of the leaders of an NCAA working group that will soon publicize additional NIL guidelines.
George is one of many college sports officials looking to enforce stronger NIL-related guidelines around recruiting… [READ MORE]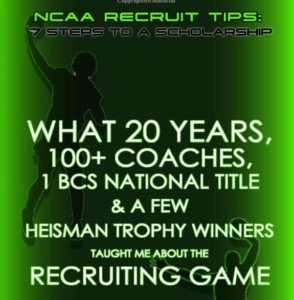 FORBES: Student Athletes Have The Right To Profit From Their Name, Image And Likeness: Now What?
According to Education Next, "in 2019, the NCAA reported that revenue from athletics totaled $18.9 billion." Student-athletes aren't paid for their labor, nor were they allowed to benefit from their name, image, and likeness until recently when the NCAA enacted a name, image and likeness policy that permits athletes to benefit from their personal brand.
The change is welcomed by critics who argue that students were locked out of an economy fueled by their labor. While the NIL policy doesn't allow players to be compensated directly by the schools (pay to play), athletes can become spokespersons, make appearances and take advantage of the incentives that come with having a solid personal brand… [READ MORE]
USA TODAY: 'You adapt or you die': College football coaches grapple with changing NCAA landscape
Standing in a Scottsdale, Arizona, hotel lobby, Steve Sarkisian used a five-word adage to explain how football teams can react to the sweeping changes taking place across college sports.
"You adapt or you die," said Sarkisian, Texas' head coach.
"If you don't adapt, I think you're gonna get swallowed up in the stuff," he added. "So we might as well embrace that change is happening. The genie is out of the bottle. It's probably not going back in."
As Sarkisian looks to write a new chapter of Texas football, matters such as name, image and likeness, the transfer portal, conference re-alignment and future media contracts are creating a new landscape in college athletics.
These topics, as well as others including recruiting changes and compliance, were discussed this week in Scottsdale as coaches, athletic directors, commissioners and other representatives from the Pac-12, Big Ten, Big 12 and Mountain West took part in conference meetings… [READ MORE]
CBSSports.com – NCAA to soon pass name, image and likeness rules targeting boosters offering inducements to athletes
SCOTTSDALE, Ariz. – An expedited NCAA enforcement process addressing name, image and likeness rights abuses is expected to pass as early as Monday, sources tell CBS Sports. How effective it will be — as the NIL culture chaotically spreads — is up for debate.
"We know we're going to get lawsuits," Ohio State athletic director Gene Smith told CBS Sports on Friday.
Smith is a member of a little-known NIL working group formed about two months ago to deal with growing questions of illicit activity. Despite the threat of legal liability, Smith said the NCAA and his subcommittee are determined to put up meaningful guardrails around NIL, which in some cases has edged close to pay-for-play.
The working group's recommendations submitted this week primarily deal with booster involvement. Several monied boosters have developed "collectives" establish NIL opportunities for athletes. NCAA stakeholders have long been suspicious of such collectives becoming direct inducements for recruits and transfer candidates… [READ MORE]
247sports.com: Crisis or cost of doing business? College football reckons with the tampering era
It's a sunny April day in Denton, Texas. Tiger Woods is on TV and the vibes are good on the eve of North Texas' spring game. That is until the subject turns to tampering, which is when UNT head coach Seth Littrell's usual stoic nature gives way to a simmering anger.
Like almost every other coach in college football this offseason, Littrell has battled to keep his roster intact. Littrell said tampering is at an "all-time high" with the worst offenses occurring by those he once considered friends.
"If you're going to go behind my back on one of my guys, I think you're chickenshit," Littrell told 247Sports. "There's no loyalty in that. If you go behind my back, I have nothing to do with you – ever." [READ MORE]
Fixing College Football: The Transfer Portal Needs A Proper Overhaul
The transfer portal in its current form has turned a broken system into an even worse one, and it must be addressed immediately
For years the NCAA and the conferences had a broken transfer system that favored schools way too much. A change needed to happen, but what we've seen in the year-plus since the one-time transfer exception was made has created an even worse system.
This, coupled with NIL now being used as an enticement to get players to transfer, has created a level of free agency that is creating far more problems than the rule change meant to address.
There is a much better system out there that actually benefits players and also protects programs.
The reality is transferring needs to be a tool for players for a number of reasons. I transferred following my first year of college despite being a starter as a freshman. Transferring is a very important tool for players, if it's done correctly… [READ MORE]
'I don't know what the solution is': Isaiah Wong's money demands exposed college sports' complicated NIL issue
College sports' name, image and likeness landscape took on a grenade Thursday night when Miami guard Isaiah Wong's NCAA-approved agent went on record to make a threat, the likes of which had never been said on the record in college sports history.
"If Isaiah and his family don't feel that the NIL number meets their expectations they will be entering the transfer portal tomorrow, while maintaining his eligibility in the NBA draft and going through the draft process," Wong's agent, Adam Papas, told ESPN.
In other words: Pay up or we're out.
What took so long? Athletic directors and coaches have been griping, mostly privately, that something like this was bound to happen. That sound they heard was Pandora's Box cracking allllll the way open, its contents and potential consequences spewing across the NCAA.
"Insanity!" one power-conference coach texted within minutes of the ESPN.com story being published. [READ MORE]
Desmond Howard Is "Not A Fan" Of Current Transfer Portal Rules
ESPN college football analyst Desmond Howard has joined the growing list of outspoken opposers of the current NCAA transfer portal rules.
"I'm just not a fan of the trajectory of college football right now. I do not like where it's heading," the former Michigan star said during ESPN's NFL draft coverage on Saturday.
"There needs to be some kind of rules and regulations behind it," he added.
USA Today – Top college football transfers to know for 2022: Big names are reshaping national title chase
LSU has added 15 transfers since hiring coach Brian Kelly. Southern California and Ole Miss have added 14 newcomers. Alabama's reeled in five, but the Crimson Tide have made them count.
Transfer season has exploded across the Football Bowl Subdivision and reshaped rosters and the chase for the national championship.
Among the big names making moves are quarterback Caleb Williams, running back Jahmyr Gibbs, defensive lineman Jared Verse and safety Brandon Joseph.
And the dust hasn't quite cleared on transfer season, with dozens more entering the portal since the end of spring drills to meet the May 1 deadline and be eligible to play immediately in 2022. Among those newcomers that have already found a new home, here's the best of the best in the FBS [READ MORE]
College football coaches will propose transfer portal windows to help with roster management
The American Football Coaches Association will propose a set transfer windows to limit the impact of the transfer portal on roster management around college football, according to executive director Todd Berry.
The first of the two portal windows would come between the final weekend of the regular season in late November and the Early Signing Period in mid-December; the other would occur from April 15 to May 1. Both would take place during recruiting contact periods. While players would be required to enter the portal during these periods, players could transfer to a new institution at any time after entering the portal.
"We knew there were going to be very few controls over it, but at least if we had a window, then the student-athletes would be able to go, 'Is this a good decision? Because here's my competition. Now I know what the other competition is because we're all in the window at the same time,'" Berry told ESPN. "It might change some perspectives. They need to be able to make educated decisions." [READ MORE]
The Athletic: Who is to blame for the situation with Miami, Isaiah Wong? Roundtable
On Thursday night, Miami guard Isaiah Wong became the face of the next public step in college athletic's evolution under name, image and likeness (NIL) rights, as his agent Adam Papas told ESPN that Wong would enter the transfer portal if his NIL deal is not increased.
This comes in the wake of John Ruiz, the billionaire founder of LifeWallet, announcing a two-year deal with Kansas State transfer Nijel Pack that totaled $800,000, including use of a car. Ruiz told The Athletic last Saturday he has NIL deals with over 100 athletes at Miami in various sports totaling more than $5 million, including Wong.
We have one, very simple question, here. Who is to blame for this mess? Ruiz? Papas? Or the NCAA, which to date has done zero to figure out any of this? [READ MORE]
Ranking the best available men's college basketball transfers, high school recruits: Isiaih Mosley enters at No. 2
It's free-agency season in college basketball.
Well, not technically. But in the age of the free one-time transfer (as well as graduate transfers), the offseason has become a time for teams to radically rebuild their rosters. Nearly 1,700 players entered the transfer portal last year, and while those numbers might have been boosted by the pandemic, we can expect another busy spring and summer of player movement.
The Athletic is here to help you keep up with all of the transactions. We're ranking the top uncommitted transfers and high school prospects, and we'll constantly update this list as players come on and off the board. College players here are listed by the class in which they'll participate in the 2022-23 season. A good rule of thumb to remember with the portal: guards are always easier to find than bigs. [READ MORE]
Coaches Pushing to Change NCAA Rules to Help Stabilize Rosters
NCAA football coaches are looking to change the rules to help stabilize the rosters decimated by the transfer portal, according to the Associated Press. The proposed changes would include a removal of the yearly 25 scholarship cap and periods for players to enter the transfer portal… [READ MORE]
Coaches Pushing to Change NCAA Rules to Help Stabilize Rosters
Elliot Cadeau Set To Earn Five Figures As The First American High School Athlete To Sign An International NIL Deal
NJ.com reports that 17-year-old sophomore point guard Elliot Cadeau just secured a five-figure NIL deal with Swedish company Vitamin Well. The Swedish Bergen Catholic student — signed to Roc Nation Sports – has reportedly become the first American high school athlete to sign an international NIL deal.
"It means a lot," Elliot told NJ.com. "I really try to embrace my international side so working with companies over there in Sweden, I feel proud of that." [READ MORE]
https://afrotech.com/elliot-cadeau-lands-international-nil-deal