The Cavinder twins, 'queens' of college sports endorsements, poised to make $1 million
Haley and Hanna Cavinder, twin basketball stars for Fresno State University, needed some extra time before they could talk about their latest endorsement deal.
It was the day after a road game at the United States Air Force Academy, and the business management majors had to finish an online class before discussing their 25% co-ownership and a board seat on Baseline Team, a startup… [READ MORE]
Secrets of the college football transfer portal: 'There's definitely tampering going on'
The standout running back from a Group of 5 program got an unsolicited call from a coach at a Power 5 program.
The coach made a promise: Come here, and we can make sure you make the most of your name, image and likeness.
And he put a number on it: $200,000.
The problem? This particular running back wasn't one of the more than 1,000 FBS scholarship football players who entered his name in the transfer portal during the past year.
"It's a reality," a Group of 5 assistant coach told The Athletic this month. "(Tampering) is going on right now."
Roster management never has been more difficult in college sports. In April, the NCAA eliminated the requirement for first-time transfers to sit out a season before resuming their playing career. Three months later, athletes were allowed to monetize their name, image and likeness for the first time.
The power balance in college athletics has shifted, and college football is… [READ MORE]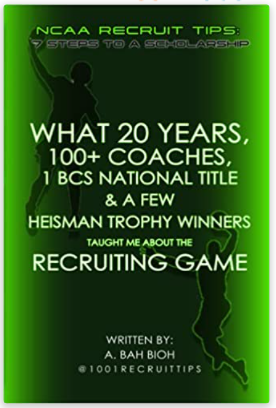 Shedeur Sanders Signs Historic NIL With Gatorade
Jackson State's quarterback Shedeur Sanders announces a historic NIL partnership with the premier sports fuel drink, Gatorade.
Sanders is the first HBCU student-athlete to join the legendary sports fuel drink's roster of elite athletes like Serena Williams, J.J. Watt, Zion Williamson, Trevor Lawrence, DK Metcalf, Candace Parker, and Jayson Tatum, to name a few.
He shared his feelings with me about the historic deal. " I'm honored to be a part of the Gatorade family. First and foremost, I'm blessed. It's a great opportunity. As a kid, I was drinking Gatorade regularly. So now that we have the opportunity to partner with them and be a part of Gatorade, I'm very blessed," said Sanders… [READ MORE]
ESPN: Male athletes lead way in NIL money, according to third-party data
Male athletes are leading the way six months after the NCAA cleared the way for college athletes to earn money on their celebrity.
They lead in total name, image and likeness compensation and have more NIL deals than women, according to third-party data from July 1 through Dec. 31 for some 125,000 athletes — about a quarter of the nearly 500,000 in the NCAA's three divisions.
NIL opportunities are clearly uneven, among genders and Power Five schools.
The Washington State women's volleyball team, for example, has zero deals. Several of its international players are not eligible for them, but coach Jen Greeny, whose teams have gone to the NCAA tournament six straight seasons, said women's teams just don't seem to be a priority… [READ MORE]
Opinion: Is the Transfer Portal Helping or Hurting College Athletic Programs?
Over the past year, one major force has taken over the world of college athletics: the infamous transfer portal.
Just about every sport gives athletes a chance to leave a university if they desire to go elsewhere. Depending on circumstances, some players have to forfeit a year of eligibility if they want to take their talents somewhere else. Others waste no time getting back onto the field, court or track and doing what they love. No matter how you view it, there are certainly some pros and cons of using the transfer portal for teams, coaches and players.
The portal is designed ultimately for players, and they sure have been using it to their advantage this year. Many athletes find themselves in unprecedented situations: perhaps they are being treated wrongly by a coach, or maybe they aren't very comfortable in their new home… [READ MORE]
WATCH: Dabo Swinney on building Clemson's success, NIL and transfer portal impact
Swinney reiterated he doesn't have a problem with NIL, but he says how it's being used now — combined with the transfer portal — is unsustainable for college football.
"With the NIL– with the transfer portal, there are some things going on that I don't think is sustainable and I don't think is good for a lot of young people," Swinney said. "You're talking 18-19-20 year olds that shouldn't be equipped (yet to handle what's going on), you know? And 98% are not going to the NFL. So let's help them maximize this for sure, but let's not allow some of the craziness that is creeping up… [READ MORE]
Lack of detailed NIL rules challenges NCAA enforcement
As the market for college athlete to earn money off their names, images and likenesses rapidly evolves, NCAA enforcement is faced with the tricky task of trying to police activities currently unregulated by detailed, uniform rules.
NCAA Vice President of Enforcement Jon Duncan told the Associated Press that letters of inquiry have gone out to multiple schools over the last few months. He declined to identify the schools but said the letters are not indicative of a formal investigation and they are frequently used for an assortment of reasons.
"It's just dialogue with a school to get more information about whether violations have occurred," he said this week.
The NCAA lifted most restrictions on athletes earning money through sponsorship deals or as paid endorsers last summer after numerous states passed laws that usurped the association's rules. The NCAA enacted an interim policy that flung open a new market, but with no consistency from state to state. Schools were told to create their own policies, following state laws where applicable…. [READ MORE]
LSU, South Carolina and the 10 college football teams most helped by transfer portal
The transfer portal has become an everyday part of college football roster management. Year over year, more and more players are switching teams.
This offseason has been no different, as new coaches are looking to improve their rosters, some coaches on the hot seat are looking to turn things around quickly and others are just trying to add as much talent as possible.
A few teams have already added big names for next season, so here is a look at 10 teams that have added the most in the transfer portal. This list does not take into account what players the teams have lost — which will come in a later post — and also factors in quality as well as quantity… [READ MORE]
College football transfer portal team rankings: LSU, USC lead top 10 classes for 2022
Embracing the NCAA transfer portal is a necessity in a new era of college football where a record number of players decided to look elsewhere during or after the season amid the 2022 recruiting cycle. Even Georgia and Alabama, the nation's two strongest programs in terms of roster quality, have tapped the portal for instant-impact additions in recent years.
The portal also allows teams who could be gashed by early NFL departures or depth issues at key positions to reload quickly with proven commodities, lessening the need for an incoming freshmen that will likely need to be groomed before he's ready to perform at the highest level.
Our updated transfer portal team rankings… [READ MORE]
NIL opportunities growing for NAIA Student Athletes
The National Association of Intercollegiate Athletics has formed a new partnership with Opendorse, the first-ever association-wide deal in college athletics. The three-year partnership will give NAIA athletes access to Opendorse's NIL marketing, education and compliance platform. In addition, Opendorse will be launching an NAIA-specific marketplace.
"With more than 77,000 student-athletes, the NAIA recognizes the need for a best-in-class solution that allows them to take advantage of name, image and likeness opportunities," said NAIA president and CEO Jim Carr. "By partnering with Opendorse, we have found a platform that not only offers that marketplace for deals, but also provides our student-athletes with educational tools, compliance reporting, and unparalleled expertise in this space."
Blake Lawrence, Opendorse's co-founder and CEO, says NAIA student athletes have already been taking advantage of Opendorse's marketplace… [READ MORE]
Walk-On's Inks NIL Deals With Unsung Athletes
A junior at LSU who occupies the last seat on the bench. A 63-year-old woman who walked on to her college golf team as a freshman. A softball player at Purdue who was flabbergasted when Drew Brees showed up to give her an award.
These are all previously unsung college athletes given name, image and likeness deals by Walk-On's Sports Bistreaux since July 1, 2021, when the NCAA allowed such deals for the first time.
For Brandon Landry, CEO of Walk-On's, the effort is personal. He was a walk-on athlete himself, meaning someone who didn't get a scholarship, on the Louisiana State University basketball team back in the day… [READ MORE]