Yahoo Sports: 'How the hell is this going to work?' Coaches, recruits left in the dark with NIL deadline looming
The high-major coaches crowded around the court to watch top-50 prospect Kyle Filipowski, a 6-foot-10 power forward at Wilbraham & Monson Academy who projects as a high-end college player in the class of 2022.
Varying hues of powerful basketball brands — Indiana red, Iowa yellow, UConn blue, Ohio State red, North Carolina blue, Virginia orange, Michigan maize and Notre Dame green — lined the floor at different times this weekend at Avon Old Farms. Plenty of others watched with curiosity, with some mid-major schools eyeballing his twin brother, Matt Filipowski, a gritty 6-foot-11 center who also plays at Wilbraham & Monson.
That familiar scene of coaches in $110 logoed golf shirts bee-hiving around top prospects played out with a different vibe at the New England Prep School Athletic Council showcase event this weekend. An undercurrent of uncertainty disrupted the familiar rhythms of coaches jockeying to be seen by top prospects, as college athletics careens haphazardly toward a moment of unprecedented change.
With July 1 the understood date for the start of some legislation to finally allow college athletes to profit off of their Name, Image and Likeness, coaches had few answers for what to tell recruits like the Filipowski twins the reality will be when they hit campus… [MORE]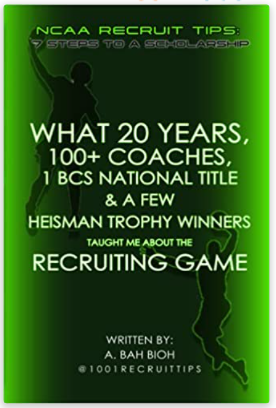 USA Today: NCAA Council recommends name, image and likeness policies should be up to schools in states without law beginning Thursday
The NCAA Division I Council on Monday recommended that the association temporarily "suspend amateurism rules" related to athletes' ability to make money from their name, image and likeness, the association announced.
The Council is the division's day-to-day policy-making group, primarily comprising athletic administrators. Its recommendation now goes to the Division I Board of Directors, a panel comprising mainly college presidents that is the division's top rules-making committee. The board is scheduled to meet Wednesday and it seems likely it will approve the recommendation.
Monday's action came with 10 states having passed laws or seen governors issue executive orders that will allow athletes to make money from their name, image and likeness (NIL), beginning Thursday or whenever their schools choose. This includes Ohio, whose governor, Mike DeWine, signed an executive order Monday, Bills with Thursday effective dates are on the desks of governors in four other states. Altogether, more than 15 states could have NIL laws in effect by Sept. 1.
Under the plan suggested Monday, schools in states that have passed laws related to NIL would be "responsible for determining whether" athletes' NIL activities "are consistent with state law," an NCAA statement said… [MORE]
As the NIL comes and NCAA rules change, college athletes could be looking at major cash
Vince Tyra can see the change coming. He anticipates turning into the parking lot of a University of Louisville venue and pulling his Ford F-150 into a space beside an athlete's Mercedes.
In assessing the potential impact of name, image and likeness income on college athletics, U of L's athletic director expects some athletes will be able to earn six-figure incomes.
At least one current Cardinal could command seven figures.
Three months ago, the sports technology firm Opendorse estimated U of L women's basketball star Hailey Van Lith could make $965,000 annually by monetizing her vast Instagram audience through a couple of sponsored posts per week.
At the time of that calculation, the freshman guard had just under 700,000 followers. That total now numbers 721,000… [MORE]
Tampa Bay Times: What we do and don't know about name, image, likeness regulations at smaller colleges
When people think of student-athletes profiting off their name, image and likeness, schools like Tallahassee Community College don't immediately come to mind.
But athletes like former Tallahassee CC Eagle El Ellis could make a bundle by monetizing their social media pages. One of the country's top junior college basketball players in 2020-21, Ellis' Instagram post announcing his commitment to Louisville sparked 3,988 likes and 540 comments. His verified account has more than 9,200 followers. His most popular video received almost 19,000 views.
Most of the buzz around Florida's NIL legislation has been generated by the possibilities for athletes who attend Division I universities. But players at Florida College System schools like Tallahassee CC, Hillsborough Community College and Pasco-Hernando State College can also benefit from the state's new law… [MORE]
NIL prep for schools 'like building an airplane when you're flying"
Stephanie Rempe and a small group of staff members at LSU have spent several hours each day in June diving down a seemingly endless series of rabbit holes.
Rempe, who serves as the executive deputy director of athletics/chief operating officer of the LSU athletic department, pieced together a task force more than a year ago to prepare the Tigers for what she believes will be the most transformative change to hit college sports since Title IX arrived nearly a half century ago. Starting this Thursday, NCAA athletes will be allowed to make money by selling the rights to their names, images and likenesses (NIL).
For now, a mixture of state laws and NCAA guidelines is expected to provide a rough outline for what kind of money-making ventures will be allowed and what kind of products athletes can endorse. At least seven states will have NIL laws go into effect starting on July 1. Schools located in states without a law on the books will likely be required to form their own policies for athletes based on a short list of requirements from NCAA leadership, according to a proposed rule change that is being reviewed by the Division I Council in a meeting Monday afternoon… [MORE]
Gators offer guidance to athletes on pending name, image, likeness legislation
Coach Dan Mullen is taking a wait-and-see attitude to Florida's pending legislation allow in-state college athletes to profit from their name, image and likeness.
At the same time, the Gators football coach is confident questions, missteps, misinterpretations and likely chaos are sure to follow the July 1 launch of a law seen as overdue for athletes and rife with potential pitfalls.
"Any time you do something this big there's going to be unintended consequences," Mullen recently told the Orlando Sentinel. "I don't know what NIL is, per see. You have some different ideas, but I don't the extent of how far it goes.
"There's going to be big growing pains. It's a big guessing game, I think we're all trying to figure it out. Anybody who tells you it's not they are just making it up." [MORE]
Yahoo! Sports: Mark Emmert tells schools he will create temporary NIL rules if NCAA doesn't pass legislation
It looks like the NCAA is really moving forward with its name, image, likeness rule changes.
Ahead of a Division I Council meeting in which NIL proposals will be considered, NCAA president Mark Emmert issued a memo to schools saying that he plans to institute temporary policies to allow all NIL opportunities for all student athletes if the rules aren't changed by July.
Essentially, he's telling the NCAA's schools that the rules governing how student-athletes may profit from their celebrity are going to change, one way or another.
Here's the full letter, obtained by the Associated Press' Ralph D. Russo… [MORE]
ESPN: College conference commissioners pushing minimalist plan to regulate NIL
College sports' most powerful conference commissioners appear to be divided on the best way to move forward with name, image and likeness rule changes as the industry enters a crucial 10-day period for defining the future parameters for amateurism in the NCAA.
A group of commissioners — including Greg Sankey of the SEC, Jim Phillips of the ACC and Larry Scott of the Pac-12 — are urging their colleagues to consider a new and minimalist approach to regulating the soon-to-arrive marketplace for college athlete endorsement deals, according to a letter obtained by ESPN.
The letter says previous proposals to change NCAA rules will lead to "inevitable confusion, uncertainty and likely litigation against the NCAA and its member conferences and institutions."
The NCAA's Division I Council, which is the governing entity that votes on rule changes for the top tier of college sports, is scheduled to meet this week and expected to make a decision by the end of the month on proposed rule changes that would allow college athletes to monetize their fame without losing NCAA eligibility. New laws in at least a half dozen states that are scheduled to go into effect on July 1 will make it illegal for schools in those states to follow current NCAA policies for name, image and likeness (NIL) opportunities… [MORE]
Wall Street Journal: The NCAA, the Supreme Court, a Duck, and a Bicycle
There's an old saying: If you see a duck riding a bicycle, and I see a duck riding a bicycle, sometimes you still need the Supreme Court to unanimously say that it sees a duck riding a bicycle, too.
OK. Fine. "Duck on a Bike" may be the title of a children's book by David Shannon, but the above is not an old saying. I made it up.
Still, that's effectively what happened Monday, as the nation's highest court confirmed what any reasonable person can see, that big-time intercollegiate athletics is a warped, hard-to-defend product.
We all knew this, of course. The big numbers are right in our faces. By now, everyone's read about the billion-dollar network deals; the millionaire coaches sheltered by eight-figure buyouts; the assistants out-earning school presidents; the gilded facilities with world-class weight rooms and wellness lounges appointed like five-star resorts.
Schools weren't embarrassed by this spending—they bragged about it. As they barred their own athletes from sharing the cash, they touted coaching hires flown in by private jet, and locker rooms with theater seats and flat screen TVs… [MORE]
The Athletic: NCAA's amateur model is cracking, but it's too late for A.J. Green, Todd Gurley and past Georgia greats: Emerson
A.J. Green sitting at the head of a small table, fielding questions about a bank statement. A check deposit of $1,000, where did that come from? An investigator for the NCAA wanted to know. Green admitting that it was for selling his Georgia jersey from the Independence Bowl.
Todd Gurley, wearing street clothes, watching his Georgia teammates practice, while he prepared for his own interview with the NCAA, where he would explain how he sold autographs for more than $3,200 in cash. A few days after his teammates flashed three fingers — Gurley wore No. 3 — to honor their teammate, suspended for violating NCAA rules that few agreed with anyway, and are now on their way out… [MORE]
Coaches, administrators express concerns over state NIL laws
The college sports recruiting landscape could become murkier when the calendar turns to July 1.
That's when six states — Florida, Georgia, Alabama, Mississippi, Texas and New Mexico — will enact legislation allowing athletes to profit off their name, image and likeness, or NIL.
The issue of NIL isn't new to college sports. The NCAA has been grappling with it for close to two years, since California first passed legislation to allow college athletes to profit off their name, image and likeness in September 2019. Because California's law wasn't set to go into effect until January 2023, it gave the NCAA time to look into modernizing NIL rules.
But a number of delays followed, due to the COVID-19 pandemic. The NCAA Board of Governors was supposed to vote on proposed NIL rules in January, but pushed it back due to concerns about possible antitrust implications. Meanwhile, more than 30 states across the country followed California's lead, introducing NIL bills in their state legislatures.
Last week, a number of prominent college sports figures, including NCAA president Mark Emmert and Gonzaga men's basketball coach Mark Few, testified before Congress, urging the necessity of federal legislation to supersede state NIL laws… [MORE]
New York Times: Will College Athletes Make Money? Here's Where the Debate Stands
College athletes are on the verge of being able to make money off their fame as the rules that have governed college sports for more than a century are upended.
In at least five states, student-athletes are expected to be allowed to cut endorsement deals, monetize their social media profiles and hire agents beginning on July 1. If a powerful N.C.A.A. committee acts as planned during a meeting this month, similar rights could be in place for college athletes nationwide this summer. Congress has also been paying attention — a Senate committee held a hearing on Wednesday — and could ultimately push ahead with federal legislation.
But the debate over student-athlete compensation has lasted for years, and there is good reason to think that the weeks and months ahead will be tumultuous, even if the N.C.A.A. sets some kind of coast-to-coast policy… [MORE]
FORBES: How Stars Learn To Know Their Own Value
Jerome Williams graduated from high school in suburban Maryland at the height of 6-foot-2. He'd been a high school basketball standout. But at that height, he knew high school would be the extent of his ball career.
So he pumped gas at a Chevron station for $6 an hour, to put himself through community college. He was dealing with reality – and still hoping. "I prayed and I asked for 7 inches," he told me in an interview a few months ago.
And guess what happened? He grew 7 inches.
By the end of the summer, he was 6-foot-9. Meanwhile, another kind of preparation paid off. While he'd been pumping gas, he'd figured out which local courts were frequented by the legendary Georgetown Hoyas coach John Thomas.
Thomas recruited Williams out of the park. (Disclosure: Williams also endorsed my new book, The New Builders).
That unlikely path to the NBA, Williams' middle-class upbringing as the son of an electrical engineer and a civil servant, and most of all, the humbling summer-long job, shaped his perspective, he said. Over a career that saw him make millions as a second-tier but tenacious player, he said he tried to be a voice for all of the also-rans in the world. Not everybody can be the standout star, but people can realize their value – and demand to be rewarded fairly for it, he believes… [MORE]
CNBC: Morgan Stanley has a new pipeline into college athlete compensation
Morgan Stanley said its sports division has positioned itself in the college sports compensation space with a new partnership with Altius Sports Partners.
Altius is an advisory firm that offers guidance around name, image and likeness strategies. Financial terms of the partnership, which includes Australian-based investment bank Macquarie, were not provided. But in this collaboration, which emulates a educational-related sponsorship, Morgan Stanley will provide its financial resources to Altius, which will in turn promote educational programs for college athletes.
Legislation protecting athletes' name, image and likeness is set to be adopted by multiple states on July 1. Such NIL laws essentially allow college players to get paid for their intellectual property. The U.S. Supreme Court will also rule on the issue after hearing arguments on whether current NCAA rules around compensating student-athletes violate antitrust laws. And U.S. senators will hold a NCAA Athlete NIL Rights hearing Wednesday to discuss federal proposals.
Hence, the signs suggest NIL will soon take effect and change the college sports landscape. And Morgan Stanley now has a presence… [MORE]
Confused about NIL? 10 questions explore how name, image and likeness laws will change college sports
Dramatic change is coming to college sports.
Legislation allowing student-athletes to pursue endorsement opportunities and monetize their celebrity status will have an enormous impact on the landscape of amateur athletics. Laws related to name, image and likeness, or NIL, will shatter the basic concept that has defined the NCAA model for more than a century: that student-athletes cannot be reimbursed in any form for participating in college sports.
In short, NIL represents a revolution in college athletics unmatched since the NCAA began sponsoring women's championship sports in 1981.
"This is really a seismic shift in how athletes are going to be compensated and recruited and where they're going to decide to go," said Irwin Kishner, the co-chair of the Sports Law Group at Herrick, Feinstein. "It really is unique in a certain way."
While change is inevitable, the immediate future is uncertain. Several states have legislation set to enter into law July 1, but there is no uniformity across these states in how the law will be established. There is also no national NIL legislation, though several members of Congress have introduced bills on the issue… [MORE]
ESPN: Everything you need to know about the NCAA's NIL debate
College sports is in the midst of its most significant changes in a generation. Current athletes, the NCAA, state legislators and members of Congress have all proposed rules that would provide athletes with varying degrees of new protections and opportunities to make money by selling their name, image and likeness (NIL) rights while playing in college.
Who will get the final say in those new rules? How expansive will the new opportunities be? Those questions will be settled in the spring and summer of 2021, and the space below will be dedicated to providing you with the most up-to-date and in-depth information on that process… [MORE]
Gonzaga's Mark Few says varying NIL laws 'disastrous', lead to unfair advantages
Gonzaga men's basketball coach Mark Few argued Wednesday that various state laws regarding college athlete compensation will lead to unfair advantages in recruiting.
Speaking at a hearing regarding athletes' rights convened by the Senate Committee on Commerce, Science and Transportation, Few said that a system without a federal law to protect the recruiting environment could lead to "disastrous" consequences.
Without a national standard, the six states that have signed laws allowing athletes to monetize their own names, images and likenesses (NIL) as of July 1 give schools in their states a clear edge in recruiting.
NCAA president Mark Emmert reiterated Wednesday he expects the NCAA to pass its own NIL legislation by the end of June, though state laws would still supersede that. It would be an attempt at fairness and a way to avoid the situation that Few and others laid out during the hearing… [MORE]
Desperation is setting in for the NCAA as Congress looks slow to move on name, image and likeness
Three weeks before name, image and likeness rights will begin one way or another for college athletes, desperation is setting in. That was the overarching message Wednesday from a U.S. Senate hearing on NIL.
After years of arguments, hand-wringing and lawsuits, it has come down to this: Congress must act to control some version of amateurism in the next 21 days. If not, there is the perception that extra benefits will be running wild in the streets starting July 1.
"We need your help," Gonzaga basketball coach Mark Few told legislators. "This is not an issue the NCAA and individual states can fix."
That might be the most compelling NIL statement from a sitting Division I coach. It's out of his hands; it's out of the NCAA's hands. On July 1, at least five states will implement NIL laws that will allow athletes in those states to have benefits the other 45 states do not permit… [MORE]
The college sports debate comes to Capitol Hill, athletes not invited
There is a continual undertow on NCAA issues that pulls even the most well-meaning people adrift. It's a current of sentiment that says others know what is best for college athletes, who should run along and play while the grown-ups make the real decisions. A powerful Senate committee is about to hold a consequential hearing on the name, image and likeness rights of college athletes, and the list of people who will publicly testify looks like a jury from the 1950s. Six guys, most of them silver-haired, not one under 45. No women.
You can see the problem. I mean, you will literally see it Wednesday morning, when the Senate Committee on Commerce, Science and Transportation convenes to hash over NIL rights. Many senators are genuinely interested in NCAA reform; some of them have been working on achievable bipartisan NCAA legislation for a while and are asking good questions about the institution. But that's just it — the focus is always on the institutions.
And so, NCAA President Mark Emmert again will be the lead witness, his brow furrowed, as he tries to decide what color paint might best cover up the rickety, peeling and disorderly house his "institution" really is, hoping to divert your attention from the thousands of athletes holding it up with the muscles of their backs… [MORE]
Name, image and likeness: Key figures to know as new laws change college landscape
The landscape of college sports will forever change July 1 when legislation from seven states goes into effect which will allow student-athletes to monetize the use of their name, image and likeness without impacting their college eligibility.
It's a step into the unknown for the NCAA after more than a century running an organization steadfastly committed to an amateur model that resisted the call for enhanced benefits for the players beyond the cost of attendance at their respective universities.
The result could be a windfall for students that were restricted from earning money despite their popularity (think Zion Williamson). Those with significant social media followings are positioned to cash in on endorsements. Even those without major followings will be able to take advantage of commercial opportunities near their campuses. .. [MORE]
Congress Urged To Act As States Start Allowing Outside Cash For Student Athletes
College sports are about to change dramatically and Congress needs to act quickly in order to ensure fairness.
That was the message Wednesday on Capitol Hill, at a lengthy senate hearing about new state laws that'll allow college athletes to make money off the use of their name, image and likeness. The money would not be from the athlete's school.
On July 1, at least five state laws go into effect, allowing college athletes to, among other things, get paid for endorsements, personal appearances and content on social media. They'll be able to hire agents… [MORE]
CBS Sports: College football coaches weigh difficulties of their jobs amid new rules on transfers, player compensation
The job of managing a college football program has increasingly become more complicated over the years. The duties of coaches — not to mention athletic directors and conference commissioners — have changed significantly.
Now more than ever, the stewardship of the game is in their hands. They can't screw it up.
Going through 15-plus months of COVID-19 reflects only a sliver of the change college football is facing. Hey, life has become more complicated.
In one sense, it's hard to have sympathy for FBS coaches who earn an average of $2.7 million per year. Plenty of us feel like we have extra duties heaped on us annually no matter our occupation. For $2.7 million? Bring it on! [MORE]
OHIO STATE EXPECTS NAME, IMAGE AND LIKENESS OPPORTUNITIES TO BE BIG TOPIC OF CONVERSATION WITH RECRUITS
There were many changes in the landscape of college sports during the 14 months in which recruits weren't allowed to make campus visits due to the COVID-19 pandemic, and the biggest one might be the change that's expected to go into effect next month: NCAA athletes finally being allowed to make money off of their name, image and likeness.
As Ohio State welcomes visitors back to campus throughout the month of June, the NIL opportunities that athletes could have by playing for the Buckeyes will be a big part of Ohio State's recruiting pitch.
Erin Dunston, Ohio State football's director of on-campus recruiting, expects it to be a frequent topic of conversation between Ohio State's staff and recruits going forward. She was specifically asked to offer a percentage of how much of the conversations are about NIL.
"I would say honestly, with NIL, if we're going pie chart, I'm gonna say the presentation's about 30 percent but the natural conversations that happen, I think it's gonna take over a lot of the chunk of what is talked about, because that's what these kids are really interested in," Dunston said last week. "They're interested in their playing time, they're interested in building a relationship with the head coach but there is that money aspect. So to me, if you're asking personally, presentation and conversation-wise, it's gonna be about 50 percent." [MORE]
Duke basketball coach-in-waiting Jon Scheyer discusses Blue Devils recruiting amid NIL, NBA G League options
Duke's Jon Scheyer is set to succeed legendary retiring head men's basketball coach Mike Krzyzewski after the 2021-22 season. While doing so, an unprecedented challenge awaits with the Blue Devils' recruiting and roster management amid a new era of name, image and likeness (NIL). Top prospects also increasingly have options from a professional standpoint, highlighted by the NBA G League. At Duke's introductory news conference Friday, Scheyer embraced those aspects while expressing a confident outlook on the right players still wanting to be Blue Devils.
"Well, we've been fortunate to have to adapt throughout the time that I've been here," Scheyer said. "And obviously this is a time where it's changing more than ever. I think it's changing for the better. It's a great time for our players. I think Duke, and I think our program, is in the best position to move forward in this new landscape with NIL, with the competing leagues like you had mentioned, the professional leagues — it's great to have those options for kids, it's great… [MORE]
Will North Carolina be left behind as college athletes elsewhere can cash in?
For the first time in more than a year, college coaches in every sport will be able to head back out on the recruiting trail starting June 1. Only a month later, the entire recruiting landscape, pretty much everything they've known since they got into coaching, could change again.
Four states have passed laws that will allow college athletes to cash in on their name, image and likeness rights as early as July 1, over the NCAA's objections. Those laws would allow athletes in those states to be paid to endorse products, monetize their social media accounts and generally benefit from the same advertising economy for their services as any other college student.
Many other states, fearing those early adopters — the SEC strongholds of Alabama, Florida and Mississippi as well as New Mexico — will have a recruiting advantage, are rushing to catch up, whether by passing new laws of their own or moving up the effective dates of laws already passed… [MORE]
International student-athletes face an NIL conundrum, and no one seems to have an answer
Robert Seiger, an immigration attorney who represents dozens of professional athletes, likes to joke that, with the possible exception of tax law, he's got just about the most boring job in sports.
Perhaps that's why Seiger's particular niche in the sports world seems to have been completely overlooked as states rush to pass new laws allowing college athletes to profit from their name, image and likeness (NIL). The new laws, of which at least a half-dozen are set to take effect in July, provide a framework for domestic college athletes to make money from things like endorsements, autographs or hosting camps. However, international student-athletes, which account for about 12% of Division I athletes, according to the NCAA's latest report, remain in a legal no man's land, thanks to a caveat within the visa program that prevents anyone on an F (or student) visa from earning a substantial income while studying in the U.S… [MORE]
Auburn coaches, athletic director preparing for Alabama's name, image and likeness law
The state of Alabama joined the name, image and likeness conversation last month when governor Kay Ivey signed an NIL bill into law.
The law, along with potential NCAA rule changes regarding NIL, has put the onus on the state's universities to prepare their student-athletes accordingly.
As it turns out, Auburn has begun laying the groundwork to do just that.
Auburn athletic director Allen Greene as well as football coach Bryan Harsin and Bruce Pearl outlined their plans for NIL during the Tigers' AMBUSH speaking engagement tour on Tuesday. The three explained the value in educating the student-athletes and how important their roles are in ensuring they are able to be properly compensated under the new guidelines.
According to the bill Gov. Ivey signed, college athletes in the state can receive compensation for their name, image, and likeness with a few exceptions such as the money needing to come from a third party – rather than from the university itself – and not arriving through the promotion of products such as tobacco, alcohol, adult entertainment or casinos… [MORE]
Wisconsin head coaches react to the department's partnership with Opendorse
The Wisconsin Athletic Department announced yesterday it was partnering with Opendorse to launch the 'YouDub' program, giving student-athletes an opportunity to capitalize on their own name, image and likeness.
The move is made in line with sweeping changes across college sports. While there are still more hurdles to pass, college athletics is on its way to allowing student-athletes to make money off their own name, image and likeness.
Here is what the head coaches of various Wisconsin teams had to say about the news… [MORE]