Washington Post: Soon, the NCAA as we know it will no longer exist. Good riddance.
A cracked old cornerstone has been yanked out from under the NCAA by the Supreme Court, and it's going to lead to the total collapse of that crude shanty house, just you watch. Soon there will be nothing left under Mark Emmert's feet but a few rotten boards. The NCAA should put a sign out: "This property is condemned."
This was an inevitable moment, and yet Emmert and his lieutenants spent years and billions in legal fees trying to forestall it, fighting athletes through the courts instead of returning what was essentially their stolen property. "The NCAA is not above the law," Justice Brett M. Kavanaugh wrote in a concurrence to the unanimous 9-0 decision in NCAA v. Alston. Oh, but it thought it was. Throughout its modern legal history, the NCAA's stewards had relied on the arrogant supposition that the courts owed them acquiescence because of the nature of what they do: They were the gatekeepers of amateurism and of scholarly purity, even as they filched and conned and collected backroom rakeoffs.
In sentence after sentence, phrase after phrase, the highest court left the NCAA unhoused and naked, with nothing left but its pretensions.
"The NCAA couches its arguments for not paying student athletes in innocuous labels," Kavanaugh wrote. "But the labels cannot disguise the reality: The NCAA's business model would be flatly illegal in almost any other industry in America." Boom. Pants around ankles.
That sentence is sure to lead to a blitz of litigation. So is this one, from Justice Neil M. Gorsuch in the majority opinion: "Put simply, this suit involves admitted horizontal price fixing in a market where the defendants exercise market control," he wrote… [MORE]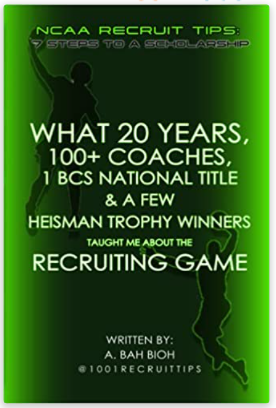 CBS Sports: The Supreme Court's 9-0 decision against the NCAA could be the blow to change college athletics permanently
The Supreme Court's decision against the NCAA in its high-profile case tied to restricting educationally linked benefits for college athletes — a devastating 9-0 return released Monday — will almost certainly be remembered as the first substantial blow that changes college athletics forever.
Even though the case, specifically, had little to do with paying players or allowing them to profit off their names, images and likenesses, NCAA v. Alston's ultimate impact should transcend its contents debated therein. This case will not go down as an afterthought or minor victory tied to allowing players being able to be gifted with a laptop or a $4,000 paid internship, which is now permissible, effective immediately.
This is the Supreme Court of the United States; its decisions have serious consequences, and the people at the NCAA's headquarters know the organization is about to face them.
Monday's ruling represents a foreshadowing of something ominous for the gatekeepers within the NCAA — the people who have restricted the rights of college athletes for generations. The final sentence of the document — in the concurrence portion, from Justice Brett Kavanaugh — is sure to be remembered as the most quoted line from the ruling: "The NCAA is not above the law." [MORE]
Wall Street Journal: Supreme Court Rejects NCAA's Tight Limits on Athlete Benefits, Compensation
The Supreme Court ruled unanimously that strict NCAA limits on compensating college athletes violate U.S. antitrust law, a decision that could have broad ramifications for the future of college sports.
Monday's ruling, written by Justice Neil Gorsuch, upheld lower court rulings that said the National Collegiate Athletic Association unlawfully limited schools from competing for player talent by offering better benefits, to the detriment of college athletes.
The 9-0 decision doesn't open up a world of direct, unlimited pay for college athletes, an issue that wasn't before the court. Instead, the justices said the NCAA must allow colleges to recruit athletes by offering them additional compensation and benefits, as long as they are tied to education.
That means schools could offer compensation beyond the cost of attending college, such as scholarships for graduate or vocational schools, internships, computer equipment and study-abroad programs—and limited cash awards for athletes, potentially nearly $6,000 for now, who do well in the classroom.
The ruling could have wide impact because it dealt a considerable legal blow to the NCAA's ability to use amateurism as a shield against efforts by athletes to share in the successes of a multibillion-dollar industry built on their labor. The NCAA for decades has imposed narrow and tightly enforced standards restricting athlete compensation… [MORE]
SEC's Greg Sankey reacts to Supreme Court's ruling for NCAA athletes in compensation cases
SEC commissioner Greg Sankey said in a statement Monday that the next step should be to talk to member institutions about the "implications" from a Supreme Court ruling earlier in the day.
The high court ruled unanimously the NCAA can't limit education-related benefits — like computers and paid internships — that colleges can offer their sports stars, a victory for athletes that could help open the door to further easing in the decades-old fight over paying student-athletes.
Schools recruiting top athletes can now offer tens of thousands of dollars in benefits that also include study-abroad programs and graduate scholarships. However, the case doesn't decide whether students can simply be paid salaries for the benefits their efforts bring — measured in tens of millions for many universities… [MORE]
ESPN: Supreme Court unanimously sides with former college players in dispute with NCAA about compensation
The Supreme Court of the United States unanimously affirmed a ruling Monday that provides for an incremental increase in how college athletes can be compensated and also opens the door for future legal challenges that could deal a much more significant blow to the NCAA's current business model.
Justice Neil Gorsuch wrote the court's opinion, which upheld a district court judge's decision that the NCAA was violating antitrust law by placing limits on the education-related benefits that schools can provide to athletes. The decision allows schools to provide their athletes with unlimited compensation as long as it is some way connected to their education.
Gorsuch wrote that the nation's highest court limited the scope of its decision on those education-related benefits rather than delving further into questions about the association's business model. Justice Brett Kavanaugh published a concurring opinion that takes a harder line, suggesting that the NCAA's rules that restrict any type of compensation — including direct payment for athletic accomplishments — might no longer hold up well in future antitrust challenges… [MORE]
CNBC: How college athletes will be cashing in after Supreme Court NCAA ruling
As Brandon Wimbush sees it, his earnings power should have peaked in November 2017: ESPN used an image of him all week in onscreen promotions of a football showdown between Notre Dame and Miami, but Notre Dame's then-starting quarterback didn't see a dime from 65,303 tickets sold or the millions of dollars ESPN parent Walt Disney Co. pays for broadcast rights.
Soon, Wimbush's start-up, Fort Lauderdale, Fla.-based MOGL Corp., may begin to change that, thanks to laws working through state legislatures and Congress, and also to the unanimous Supreme Court decision on Monday that ruled against the NCAA in an antitrust case limiting the National Collegiate Athletic Association's rights to bar college athletes from getting paid… [MORE]
CNN: Supreme Court rules against NCAA, opening door to significant increase in compensation for student athletes
A unanimous Supreme Court said on Monday that student athletes could receive education-related payments, in a case that could reshape college sports by allowing more money from a billion-dollar industry to go to the players.
College sports raise billions of dollars from ticket sales, television contracts and merchandise, and supporters of the students say the players are being exploited and barred from the opportunity to monetize their talents. In 2016, for example, the NCAA negotiated an eight-year extension of its broadcasting rights to March Madness, worth $1.1 billion annually.
Justice Neil Gorsuch delivered the opinion of a unanimous court targeting the education-related benefits at issue in the case. But in a concurring opinion, Justice Brett Kavanaugh said the NCAA is essentially acting "above the law" in how it treats athletes and questioned if more spending limits should fall… [MORE]
RIVALS: Court ruling paves way for new era in college athletics
The Supreme Court has dealt a striking blow to the NCAA in a unanimous decision regarding the organization's model of amateurism.
Deciding on NCAA vs. Alston, the court ruled that "education-related" benefits provided by member institutions to its student-athletes cannot be prohibited by the NCAA. As a result, the decision opens the doors to a variety of resources that can now be supplied.
The larger issue for the NCAA rests in the concurring opinion of Justice Brett Kavanaugh, however.
Adding a five-page opinion to the larger decision written by Justice Neil Gorsuch, Kavanaugh writes that the case of NCAA vs. Alston "involves only a narrow subset of the NCAA's compensation rules," but that the organization's other compensation rules regarding compensation or benefits for playing sports should also be under close scrutiny.
Laying out his argument in three points, Kavanaugh acknowledges that those rules have not been decided in this case. However, he adds, those rules should receive "ordinary 'rule of reason' scrutiny under the antitrust laws, stressing that "the NCAA is not otherwise entitled to an exemption from the antitrust laws" upon which the organization has operated now for decades… [MORE]
USA Today: NCAA Supreme Court ruling – What it means for college sports, athletes
The Supreme Court on Monday ruled unanimously that the NCAA may not place limits on education-related benefits student-athletes can receive for playing college sports.
The landmark decision is certain to redefine the concept of amateurism and may spark the sort of change that would usher out the longstanding NCAA model in favor of one that compensates athletes "who collectively generate billions of dollars in revenues for colleges every year," Justice Brett M. Kavanaugh wrote in his concurring opinion.
What the ruling means
Monday's ruling outlines several possible benefits for student-athletes linked to academic achievement.
For one, athletes participating in Division I men's and women's basketball and the Football Bowl Subdivision will be allowed to receive benefits that include cash or cash-equivalent awards based on academics or graduation. Schools may also offer scholarships for undergraduate or graduate degrees and paid internships after athletes have exhausted their college eligibility… [MORE]