NCAA Football Coaches Can Now Leverage NIL Data From Their Nielsen Impact Score to Recruit Athletes
The Nielsen Impact Score that measures a college sports team's marketing value for student-athletes has expanded to more than 100 college football programs. The database originally launched in October for NCAA D-I men's basketball teams only.
Nielsen's Impact Score ranks a college team's marketability based on three key categories: time spent on national television, activations with local sponsors and a program's engagement on social media. Nielsen says its score is designed so college coaches can reference data about their program's NIL endorsement potential when recruiting student-athletes.
"Kids a lot of times go to where they can get paid the most," Ole Miss football coach Lane Kiffin said last month. "It is what it is. Free agency has been created in college football. This is just a whole new thing to deal with." [READ MORE]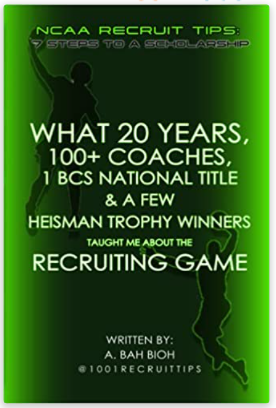 Why state legislature is considering repeal of NIL law to help Alabama, Auburn recruiting
The Alabama Legislature is moving to repeal a law allowing college athletes to earn money off their name, image and likeness (NIL). But that won't stop college athletes from making deals.
A House committee on Wednesday approved a bill sponsored by Rep. Kyle South, R-Fayette, that would get rid of the 2021 law. South said in a phone interview Friday the NCAA's decision last year to allow college athletes to make deals off NIL meant Alabama's law was more restrictive, and that there were concerns about the state's top-tier colleges staying competitive in recruitment.
"There tends to be a thought a process that Texas and Michigan have had an advantage in the fall," South said. "Going into this upcoming recruiting season, we just didn't want any conflict to be there." [READ MORE]
Athletes Who Had COVID Will Be Considered 'Fully Vaccinated,' NCAA Says in New Guidelines
The NCAA on Thursday released its new COVID-19 guidance for winter sports, and the guidance contains some important news.
As ESPN reports, the NCAA's COVID-19 Medical Advisory Group updated its definition of "fully vaccinated" to account for various new vaccinations, boosters, and immunity factors.
"Fully vaccinated individuals now include those within two months of receiving the Johnson & Johnson vaccine, five months of receiving the Pfizer vaccine series or six months of receiving the Moderna vaccine series;" reports ESPN staff writer Jeff Borzello, "and individuals who are beyond the aforementioned timeline and have received the booster vaccine."
But perhaps the biggest development came in the following line… [READ MORE]
Senior Recruits with More Interest After Not Signing in December
There are always exceptions to the rule, even in college football recruiting.
Whether it be because of a coaching change, late development or that 2021 game tape taking a bit longer to be put together, there is a group of senior football prospects who have felt intensified recruiting pressure after electing not to sign during the Early Signing Period in December. The group isn't large, especially as programs navigate the ever-expanding transfer portal, but the senior-riser recruit still has a shot to see more interest with increased Friday night production and/or exposure.
As the NCAA's recruiting dead period comes to an end Friday morning, with many coaching staffs both out and about and prepared to host recruits again this weekend, Sports Illustrated updates the recruitment of some of the talent receiving more attention late in the game. .. [READ MORE]
College football transfer portal top 25 best available: Tracking Caleb Williams and the hottest names on the move
More than 1,300 college football players have entered the transfer portal at the FBS level since August, and that number grows every day. The one-time transfer exception has made the choice much easier for players throughout the country, and the unique challenges of roster management right now have made the transfer market far more competitive.
To help you keep tabs on who's going where and which transfer players are the ones everyone wants, The Athletic has created a tracker of the best available players in the portal. Players in the top 25 are ranked based on their experience, production, potential and how much interest they're generating. This is a very fluid list, though, that we'll constantly update as top transfers make commitments and new players enter the portal.
Many of the most highly touted players in the portal are already off the market, including Eli Ricks (Alabama), Jahmyr Gibbs (also Alabama), Quinn Ewers (Texas) and Kingsley Suamataia (BYU). But this transfer cycle is far from over, and it's a safe bet more big-name players will make moves in the months ahead. Here are 25 available transfers you need to know… [READ MORE]
FSU, state schools could get NIL help from two new bills in Legislature
Florida State and other state schools could soon be on a level playing field with colleges across the country when it comes to Name, Image and Likeness, if two new bills make it through the state Legislature and reach the governor's desk as expected.
The bills, which are identical and were filed in the House and Senate to expedite the process, are designed to relax restrictions imposed by last year's landmark legislation, which allowed college athletes to be paid for promotional appearances and other use of their name and image.
Florida's law, which university leaders supported at the time, made it permissible for athletes to make money through NIL but forbade the schools and their employees from taking part in the process.
So, for example, an athlete like quarterback Jordan Travis could set up his own deals. But head football coach Mike Norvell and other staff members couldn't facilitate them or even connect interested businesses with athletes… [READ MORE]
2022 college football recruiting class rankings: Deion Sanders, Lincoln Riley land key prospects
While the pool of remaining uncommitted top college football prospects is dwindling, All-America game season brought about another wave of notable commitments. With a high concentration of talent amassed amongst the top five classes — 86 ESPN 300 prospects a part of one those programs — making a move forward near the top can be tough. While three of those top five classes added a four-star commitment, it was still not enough for any of them to push forward at this time, even just one spot.
The latest commitments did boost some programs further down, though. Miami (Fla.) , Florida and Southern California have all undergone coaching changes, and while all are normally top-10 class contenders, the turbulence has led to recruiting struggles and smaller classes this cycle. Each program, though, added potential impact ability and rose in the rankings.
Leading that group is Miami, which landed lengthy edge defender Cyrus Moss. Moss was an initial target of Hurricanes head coach Mario Cristobal while at Oregon. Cristobal was able to get Moss to join him in South Florida, and while Moss is much leaner at this stage, he could develop into a player similar to former Hurricanes defender Jaelan Phillips… [READ MORE]
WWE opening doors for college athletes with NIL program
World Wrestling Entertainment is looking for its next generation of superstars.
And it may not be the traditional type of talent fans have been used to for decades. But it's a major step in the company's revamped developmental program.
The sports and entertainment juggernaut has jumped on the NIL (Name, Image and Likeness) bandwagon, signing deals with 16 NCAA athletes from various sports and giving them a more direct road to sports entertainment… [READ MORE]
From Understanding to Enthusiasm: Spyre Sports Execs Detail NIL Approach, Tennessee Goals and How They Plan to Support Vols
On July 1st, 2021, the NIL era officially arrived, and it has shaped the world of college athletics since. The change signaled the opportunity for players to profit from their name, image and likeness finally. It was an exciting time for student-athletes across the country, but there were many unknowns. Knoxville-based Spyre Sports, led by James Clawson, Hunter Baddour, and Sheridan Gannon, was ready to help facilitate NIL deals for student-athletes at Tennessee and help players navigate the new unknowns. Baddour and Gannon recently sat down with Sports Illustrated to discuss their efforts, new initiatives and more.
Selling a new product, vision or idea can prove challenging, especially when you couple it with navigating a world impacted by a pandemic and something as unknown as the NIL. Still, that did not hinder Spyre's efforts, as they took the obstacles in stride… [READ MORE]