ESPN: What college football coaches learned from the pandemic last year
WEST VIRGINIA COACH Neal Brown is hesitant when he says there are positive things to be gained from what he and his fellow coaches went through last season.
"Maybe 'positives' isn't the right word," he corrected himself.
Brown doesn't want to paint a rosy picture of what was a frustrating situation for everyone involved. Talk to enough coaches and they'll tell you how exhausting it was going through a pandemic, juggling safety and practice and those endless pages of protocols and, oh yeah, the games themselves.
They're creatures of habit who thrive on structure and routine. But as North Carolina coach Mack Brown told his staff one day last year, "The only thing consistent is inconsistency."
So, no, it wasn't much fun, and there was very little in the moment that felt positive.
But the further away they get from what Neal Brown says was the most challenging experience for anyone in leadership, whether they were a coach, a CEO or a principal, the more there's something to be gained from the experience.
"I think there are opportunities that have come out of the adversity that we've been through," he said.
Opportunities to rethink the way they practice and recruit. Opportunities to rethink the way they teach and communicate. Opportunities to not look away from social justice issues that for so long were ignored.
Like millions of Americans, Neal Brown has learned to embrace Zoom, which is why he was able to participate in this interview from his home one day last month… [MORE]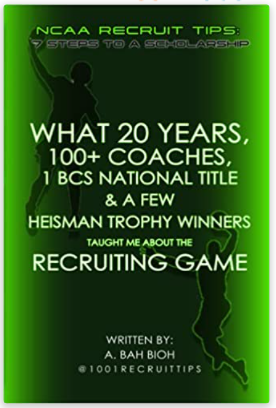 The Athletic: Mission Impossible – How to build an elite program despite college football's recruiting problem
You could make the case that Sean Dillon has the hardest job in college football. Dillon is the director of player personnel at Nebraska, and his job is to help Scott Frost return the Cornhuskers to the glory days. Or, in other words, getting Nebraska back to the point that it can compete for national titles again.
Here's the kicker: That may not be possible. Dillon's job, quite literally, could be Mission Impossible… [MORE]
NCAA rules to increase rosters in '21 creates problems down the road
Roster management. It's the new catch-phrase among college football coaches, and you better be good at it or you could dig yourself into a hole before the season even starts. Two NCAA rule changes, one that allows first-time transfers to play immediately without sitting out a year and another which grants an extra year of eligibility to everyone who competed in 2020 are creating problems. Actually, it's not so much the rules themselves but rather the way they are being implemented that is giving coaches headaches.
Normally, coaches go by the 25/85 rule which allows them to recruit up to 25 new players each year with a maximum of 85 players on scholarship. This year though, returning seniors do not count against the 85 player limit. So, if 15 seniors decide to return, you can have 100 scholarship players.
But, the limit of 25 new players is a hard cap, and there's where you run into trouble. "The hard cap of 25 new players was put in place partly to stop coaches from running players off," USF coach Jeff Scott explained. Since almost all football scholarships are for one year beginning on Aug. 1 and ending on July 31st of the next season, if there wasn't a hard cap, a coach could simply decide not to renew the scholarships of players he didn't want and replace them with others he liked better.
But, if you bring in 25 recruits, you've reached your limit of new players and if you decided not to renew some scholarships, you wouldn't be able to sign anybody else. "The rule is well intentioned," Scott said, "but it's creating problems for us now because if any of our players leave, we have no way to replace them and teams are going to be short-handed."
That's because of the new transfer rule. Since players can change schools and become immediately eligible, many of them leave the school they originally signed with and enter the transfer portal looking for better opportunities someplace else.
So, let's say you've signed 25 new players and now, sometime after spring practice and before the start of the season, seven scholarship players decide to leave. Suddenly, you're short seven players. The logical solution would be to reach into the transfer portal and sign seven guys to replace them, but you can't do that because you're only allowed to add a maximum of 25 new players and you've already signed 25 recruits.
And this problem will carry over into next year because as it stands right now, the NCAA is going to go back to a maximum of 85 players under scholarship. So, if you have 100 scholarship players this year and 15 are seniors, once they leave you're going to have 85 players left, which means if nobody else leaves, you won't be able to add a single new player in 2022.
"This is a difficult situation, for us as coaches and for the players themselves," Scott commented. "Because we can't go into the transfer portal to replace players who leave, it's estimated there could be as many as 1,500 players with no place to go when the season starts. For many of them, that means their college careers are over and they'll have to get jobs. And there will be teams that could use those players but can't sign them because of the rules.
"This is something the NCAA has to fix," Scott said. "And hopefully they'll do something like allowing us to sign 30 new players instead of 25 and gradually reducing roster size to get back to 85. The NCAA has always been more reactive than proactive, and this is really hurting the players. Hopefully, they realize that and do something to correct it," Scott added… [MORE]
Florida New Times: The time for players to make college decisions is ticking
Remember four and a half years ago, hundreds of high school football players announced their college choices on the first Wednesday of February?
At least one new employee at every school seemed to go through the process of picking one of the hats on the table in front of them and revealing their choice.
Those rituals still exist, but they are becoming more and more rare.
Early in the process for high school athletes, between the early signing period with December as the new National Signing Day, the NCAA transfer portal, and the impact of NCAA's response to the COVID-19 pandemic since it began in 2017. Decision.
If you wait too long, you risk being left behind… [MORE]
FORBES: As Pandemic Subsides, College Basketball Recruiting Returns In Full Force
By noon on Friday, North Carolina head men's basketball coach Hubert Davis and assistant Brad Frederick and Duke coach-in-waiting Jon Scheyer and associate head coach Chris Carrawell were among the coaches seated in the bleachers at The Hun School in Princeton, N.J. — ready to evaluate high school prospects in person for the first time in 16 months.
It was a beautiful early summer afternoon. The doors to the gym were open to let in the fresh air. And after months of being cooped up at home or in offices wearing masks, coaches sat side by side in the stands shaking hands, exchanging greetings and sharing the latest gossip — all without anyone wearing a mask. Everyone in the gym had their temperature checked before entering.
With vaccinations up and Covid-19 cases down nationally, college basketball recruiting was back to "normal" as coaches were out on the road for the first time since February 2020 — before the pandemic turned the world upside down.
"It's definitely a great pleasure to be back out here, we definitely took it for granted before Covid," Dereck Lively, a 7-foot-1 rising senior from the Westtown (PA) School, told ZAGSBLOG after going for 17 points, 21 rebounds and 4 blocks in front of the Duke and North Carolina head coaches. "It's definitely a treat to be back out here and I'm just ready to show what I can do." [MORE]