BEFORE YOU MAKE THE TEAM
#1 – ASK HOW THE PROCESS WORKS: Walk-ons generally join the team in two ways, either as a preferred walk-on or through a tryout. A preferred walk-on doesn't have to tryout—they are borderline offers, favors for influential people or players from successful prep programs. Players that must tryout (MUST already be enrolled in classes at that university), complete compliance paperwork, get a physical and show up to the open tryout on a select date. You may need to weigh out your options after speaking with the schools that you are interested in to see which ones may be your best chance to make the team, it's not guaranteed and the spaces are extremely competitive. See how the process works at each school.
#2 – OTHER SCHOLARSHIPS AND LOANS: Apply for other scholarships (academic, service, legacy, major) and student loans. Nearly every other college student has to work to secure their scholarships and loans, so can you!
#3 – SEND HIGHLIGHT VIDEO: Walk-on positions are just as competitive to get as scholarship spots, so you can approach the coaches in the same way—they need to see you play. Organize your highlight video and your Student-Athlete Resume, contact the school, find out who the 'Walk-On Coordinator' is and forward your information to them for review. Follow-up within a week or two!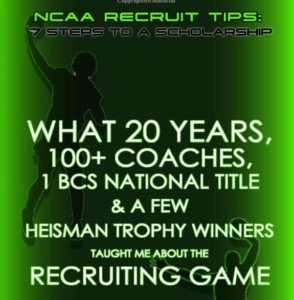 #4 – DO THEY NEED YOUR POSITION: Like scholarship spots, walk-on positions are usually slotted for a particular position or two that the team is lacking depth in. Again, if they are stacked at your position, they aren't likely to add you, choosing another player who can help at a position of need instead. Try back again in a year, and maybe even the next year.
#5 – WHAT ARE THEY LOOKING FOR: When you speak with the Walk-On Coordinator, ask them specifically what they are looking for—size, speed, grades, campus leadership? Each coach and program is looking to add something different—ask them specifically what type of players they need?
#6 – ASK FOR DRILLS: When you speak with the Walk-On Coordinator, ask them for drills, or ask your potential position coach for a few key drills. You can call or email for this information, or if you are already enrolled, stop by the office. It shows you are going above and beyond and willing to do the extra work to be prepared for your tryout. It won't guarantee you a spot (heck, you may not even get any sample drills), but it will show your work ethic and your desire to be prepared.
NCAA Recruit Tips: 7 Steps to a Scholarship
#7 – TRAIN: Prepare, prepare, prepare! Many players come out and haven't been putting in the consistent work that the current players have been putting in. Get up early and run, make strides in the weight room. Coaches are looking for skill, size and speed. Those are three ways you can get your foot in the door. Work on your position-specific drills, be in the best shape possible and train just as hard as the current scholarship athletes are training! Focus on improving skill, size and speed!
#8 – HAVE YOUR COACHES CALL: Ask your prep coaches to make a call to the coaches or Director of Operations to find out how the process works, what they are looking for and how you can secure a preferred walk-on spot or tryout. In some cases, your coach may be able to get more info that you can get.
#9 – ATTEND SUMMER CAMP: Entering your senior year of high school, if you haven't had much interest, particularly in your dream school, considering participating in their summer camp. It gives you a few days to network with the coaches and for them to get a chance to see you play. Coaches normally add a few players to their recruiting watch lists based off working with them in camp and after evaluating their size, skill and speed in person. You may not be scholarship-ready but you may be able to network with them and earn a walk-on spot. If you have a select school in mind, this is a great opportunity to get your foot in the door to try to earn a preferred walk-on slot. The earlier the better.
#10 – OFFER TO WORK CAMPS: If you are already enrolled at the university, check with the Camp Director or the Director of Operations in the spring and submit a resume or letter of interest, offering to work summer camps. These part-time positions may be on a week-by-week basis or may last throughout several weeks during the summer. Although they often pay, be willing to negotiate to volunteer if there are no extra positions available. Anything you can do to get your foot in the door, networking with the coaches and decision-makers, will give them a chance to see your work ethic and passion. You may be coaching elementary students or filling up the Gatorade coolers, but this can be an audition to show the coaches how hard you are willing to work to be a part of the program and get inside information on what skills they are looking for, what drills you can be working on and what sizes/speeds coaches are looking to bring in. Again, you might not make the team on the first try but at least they'll be able to put a name with a face and that always helps.
#11 – MULTIPLE TRY-OUTS: If at first you don't succeed, try… try again! I've been a part of many teams where a player eventually made the squad after trying out more than one time. If you don't make the cut the first year (don't play a position of need, aren't big or fast enough) then use that year to keep training. It is not uncommon for players to have to try out more than once to be able to make the team. Humble yourself and keep showing up!
#12 – STUDENT MANAGER: A similar idea to working camps. Any way you can get your foot in the door, networking with the coaches, understanding what they are looking for, seeing first-hand how hard the players work and what drills they participate in will only help you. It's not uncommon for a walk-on to make the team after working for a year or two as a manager. If you work hard, are willing to do anything to help the team (laundry, class checks, field set-up) on that level, coaches will take your work ethic into consideration as they are making their decisions. You will have an edge over other candidates who they have no relationship with.
#13 – ACADEMICS COUNT: Most walk-ons have outstanding grades, and their academic standing can help boost the team's overall GPA and academic standing. Coaches sometimes have enough trouble monitoring their scholarship players and their grades, they will not tolerate a walk-on player who isn't pulling their weight in the classroom. Don't let your academic standing be a reason to eliminate you from consideration, coaches are looking to add scholars and leaders, not just average students!
#14 – HOW CAN YOU BRING VALUE TO THE TEAM: Similar to scholarship players, what can you do to separate yourself and bring value to the team? Are you a top scholar, a student leader, a special teams superstar, an undersized speedster, someone who will take scout team extremely seriously? Can you show your toughness and willingness to hustle? Find a way to get an edge—through leadership, academics, toughness or attitude. What is the team lacking, how can you become a specialist at that skill?
#15 – LOCAL PRODUCT: If playing for your hometown team is your dream, guess what—you may actually have a slight advantage over other potential walk-ons. Coaches LOVE adding a local player or two who was a great hometown player in the area who may be choosing to stay closer to home, who is a life-long fan and who has local following. Contact the coaches or have your prep coach contact the Walk-On Coordinator during your junior or senior year and get the conversation going!
Coaches are likely open to it, especially if you were a great player and leader for your high school!
YOU MAKE THE TEAM, HOW TO EARN PLAYING TIME:
#16 – PLAYBOOK, FILM JUNKIE: Earn the respect of your coaches and teammates by knowing the playbook better than any other player and by becoming a filmroom junkie. Although you may not be as naturally talented as other scholarship players, understanding the playbook backwards and forwards can only help you, and can help you assist your coaches and teammates during games. Many walk-ons become future coaches, and that begins with learning the importance of having a high IQ in your sport in terms of fundamentals, strategy, core philosophy and personnel. Being one of the smartest and most prepared players in the meeting room will help you get on the field at some point. Film will also give you an advantage, so once you understand how to get the most of it and you will be able to anticipate plays better in live games, you may pick up on tendencies quickly and be able to communicate those to your coaches or teammates. This can be one of your best angles to get some playing time!
#17 – MAKE TEAMMATES BETTER: Be serious in meetings and during practice on scout team, do whatever you can do to make your teammates better. Don't be frustrated as a player on scout team, take great pride in it, it IS your way to help the team! The more prepared they are, the more reps they are able to get in during practice, the more successful they are likely to be. Initiate extra reps after practice with your teammates, offer to help, stay late or come in on off days to help the starters! You will be improving as well and getting a step closer to some playing time!
#18 – FIRST THERE, LAST TO LEAVE: Coaches appreciate players who are ready to come to work every day. A key way to earn respect is by being the first player there and the last player to leave. Get in extra reps for yourself, or as mentioned above, help make the starters better by initiating extra reps after practice or on off days. Coaches will take notice! Those 15 or 30 extra minutes of drills will add up over the season and you will become a better player. Ask your coach for drills that you need work on and can do on your own, they love nothing more than players who take initiative to get better and who take action instead of just talk about making improvements!
#19 – WAIT FOR CHANCE: A lot of walk-ons may go into the process thinking that playing time in-game is your chance. That's going to be a goal you will work towards down the road. Realize that scout team IS your chance. The role of scout team is very important to coaches, and can make a difference in the success of the team. Take pride and ownership of your unit, just as you would of your position group if you were a starter. Keep it competitive versus first and second teamers. Play fundamentally sound, if coaches can trust you in practice to not make careless mistakes they'll be more likely to trust you in game situations! Your first goal is to be the most outstanding scout team player and getting playing time in that way. Many walk-ons may not even see practice time, let alone game time.
Realize that this is your first goal! The better you do preparing the team through scout team, the more likely your coaches will trust you in live game situations down the road!
READ: What 20 Years, 100+ Coaches Taught Me About the Recruiting Game
#20 – DO WHATEVER YOU CAN TO MAKE A DIFFERENCE: A lot of walk-ons join the team trying to be 'too cool.' They are sometimes bigger divas than the top recruits. Humble yourself, keep a positive attitude and do whatever you can do for your teammates and coaches to be able to make a difference. Drop the diva attitude, a humble attitude will get you much, much further!
#21 – CONSISTENT AND DEPENDABLE: Another thing coaches are looking for are players who are consistent and dependable—in everything that they do. In your unit, if you can be the player who provides consistency, stability and reliability to the team, you will earn your coaches respect. Take it a step further, once you are part of the team and hanging out with the other players outside of the facility, be the voice of reason in situations where starters and scholarship players may need guidance. If you are around negative situations or altercations, help remove the starters and scholarship players from the environment—never be the one who escalates it. You will be off the roster immediately, be the 'voice of reason' when your coaches aren't around.
#22 – DO THE DIRTY WORK: Special teams, rebounding, blocking, toughness, extra work…. Again, everyone wants to be the leading scorer, rusher, playmaker but there are key skills that COACHES are looking for that can help win games. They may not get the glory or the fans, but they are critical skills in helping the team win. Do those tasks that most other players think they are too good for— blocking, rebounding, cheerleading from the bench, running scout team. Get in there and get your jersey dirty. Make a difference in those skills that actually help change the game.
#23 – THERE FOR THE RIGHT REASONS: A key piece of advice that I give elite scholarship athletes is "Chase greatness and everything else will come." This applies to walk-ons as well. Over the years I've noticed that a good percentage of walk-ons are 'in it' for the wrong reasons, they aren't necessarily there for the love of the game. Those players never last or see playing time, the walk-ons who are eventually put in a position to earn playing time are the ones who are chasing GREATNESS first—not the popularity contest, media, or any of the other fringe benefits. Be there for the right reason—the love of the game and your school—and you'll succeed!
#24 – BIGGEST CHEERLEADER: It cannot be stated enough how important ENERGY and MOMENTUM can help your team. As a walk-on, you may not see much playing time but you do play a major role during competitions. Clap it up— when things are going good, when the team is facing sudden change or adversity or when the game is on the line. Even when a key player makes a critical mistake, be the first one over to tell them to keep their head up and that they'll make the play next time. Keep your teammates confident and focused and bring the energy to the sideline! In and out of quarters or halftime, between time-outs—CLAP IT UP! That is your job, and YES, it can help win!
#25 – DON'T HARASS STAFF: Many walk-ons are some of the most popular and fun players on the team, they're happy to be there. Other walk-ons think they have to be DEMANDING in order to earn respect. I've come across my fair share of walk-ons who always tried to demand extra equipment, gear, exceptions and it's something coaches don't want to hear about. Treat your academic counselors, equipment managers, trainers and other staff with respect or you could find yourself cut from the roster for having a disrespecting attitude. You can't demand respect, go earn it.
#26 – MENTOR YOUNGER PLAYERS: Once you are on the team and a veteran, take some of the freshmen under your wing, especially at your position. Coaches are always looking for leaders within the team, and you will be helping your position out if you can help mentor a rookie and show them the ropes, on and off- campus. Tips for class, practice, film, game prep, laundry, cooking, rides, breaking the ice…
#27 – HELP WITH RECRUITING: On official visit weekends, recruits are paired up with hosts, and there are some occasions where coaches would pair up a player with a walk-on, they are at times the funniest or most personable players on the team. They may actually have more passion or school spirit, and it can be infectious. Anything you can do to help the team, including hosting a prospect or helping during official visit weekends will be a help to your coaches.
#28 – PARENTS: Coaches don't usually respond well when parents call to complain about playing time or petty stuff. They ESPECIALLY don't like it if it's for a walk-on, particularly if you aren't a key scout team or special teams player. In my experience, we once had a parent who constantly complained that their walk-on son should be starting ahead of the current starter… a player who would go on to win multiple Super Bowl Championships as a starter. Appreciate your opportunity and keep the complaints about playing time to a minimum. Champions never complain their way out of a problem, they work their way out!
#29 – NEVER EMBARRASS THE TEAM OR THE COACHES: Especially in the news—arrests or incidents with the police will be another quick way to find yourself off the team. Again, you may not even have the opportunity to give the coaches your side of the story if there is a pattern of bad behavior or legal incidents. Some coaches tolerate legal issues with scholarship players and may give them second or third chances but most won't tolerate issues with walk-ons. You are there to bring positive light to the program, never negative attention!
#30 – HAVE FUN: Most importantly, HAVE FUN! Playing at the collegiate level, in the sport that you love, will be a life-changing experience. To many walk-ons, it's an experience they'd actually pay for at the end of the day. I'd give up many things to go back to those four seasons in undergrad with my team! If every other regular student has to find scholarships or loans or depend on their family, then you are simply doing the same thing and getting the chance to live out your dream—being part of your college team! Enjoy it!